Insanity….
doing the same thing over and over again and expecting a different result.
Business Improvement and Growth Through A Practical Approach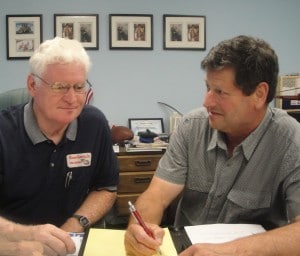 We offer a practical, and results oriented approach that is particularly well suited for the needs of small and midsize companies. We don't have the consultant's 'one-size, fit's all' template; rather, we work together to create a specific plan of action that's right for your business situation and needs.
We will start by carefully assessing the business' current situation to determine what's working and what's not through a structured process.  We will identify your company's strengths and competitive advantages; gathering the information needed to make smart, well-informed business decisions. We will appraise your weaknesses, and opportunities for growth.  By reviewing your competitors and trends that may impact your business we can analyze potential business threats.  We will also examine your customer to better understand who your customer is; their wants and needs. The key is asking the right questions. Having a through understanding of your company's strengths and weaknesses, we will be able to assist you in developing a plan that helps you carve a sustainable niche in your market.
What to Expect
You'll have a realistic awareness of the weaknesses and business opportunities that will help your business succeed because you will better prepared to act effectively.  You'll will have specific growth opportunities on which to concentrate – the most important factors affecting your business.  Success will come from implementing strategies that focus on areas that contribute to your growth and bottom line; and, ignoring the areas that are distractions to your efforts.
The Result
Working closely with you, we'll produce a specific, highly actionable plan that is measurable; attainable; realistic; and, timely. We will also assist you in assigning responsibilities for getting things done. We believe in a practical, simple, straight-forward approach rather than producing a "36 page" fancy binder for the bookshelf or becoming bogged down in "analysis paralysis". In the end:
You will know your company's uniqueness and niche in the marketplace.
You will know your company's strengths and competitive advantages.
You will have practical solutions to increase your name recognition and branding.
You will know who your customer is and have a better understanding of how to reach them.
You will have a plan that you assisted in creating, not a "consultant's" plan.
The final decisions are always yours. After all, it's your business.
Insanity – doing the same thing; over and over again, while expecting a different result…
…. Albert Einstein
Are you ready to embrace change and take your business to the next level?
Give us a call at 803-810-9310 and let us help you make a difference today.